La Maison des Vendangeurs
ACCOMMODATION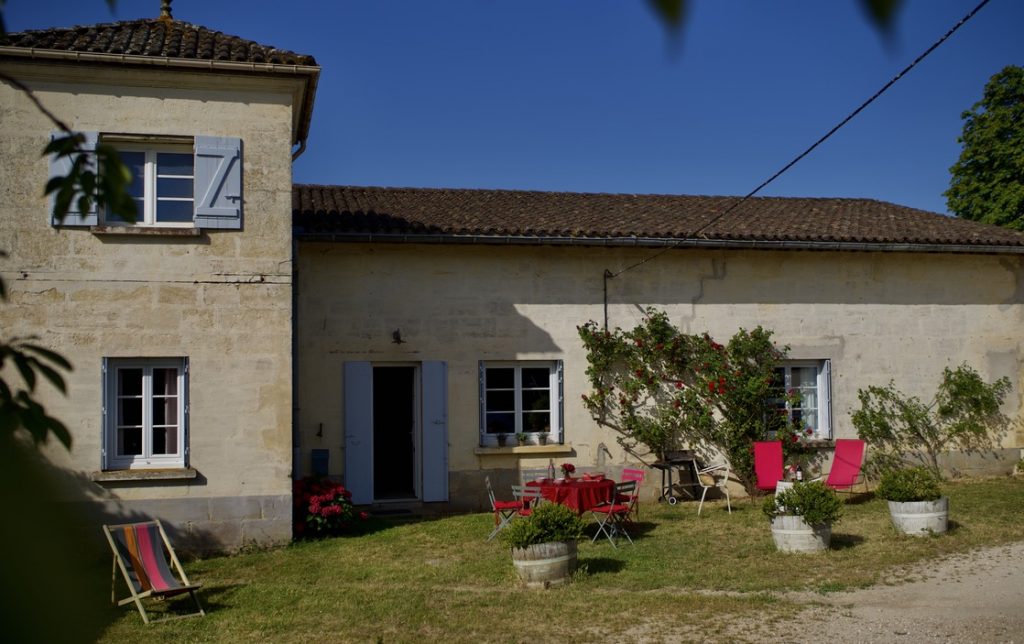 Located close to Château TOURNEFEUILLE'S, magnificent vineyard in Néac, Virginie Petit, invites you to enjoy a private and peaceful stay in the historic Maison des Vendangeurs.
Her flair for detail and comfort has helped her to create a cosy yet understated abode decorated in typical Bordelais style.
The 80-metre-square, stone house has a large living space with a lounge area and fully equipped kitchen, a garden with outdoor furniture and three bedrooms : the little « rouge » room, the medium-sized « Rose » room and the large « Terre » room.
Each room is furnished with a desk. The communal shower room has three washbasins and three separate showers.
La Maison des Vendangeurs is available for long-term rentals from September to June for students.
In July and August, it functions as a gîte that can comfortably sleep six people and can be rented by the week or by the fortnight.
What our guests say
Visitor testimonials
We had a wonderful stay at Tournefeuille. We would have stayed longer if we could. Virginie's care and kindness ensured we had a very happy and comfortable stay. The house is practically located for visiting Saint Emilion, Bordeaux, Arcachon and Bergerac. We would love to visit again.

We spent a lovely week here with our family and really made the most of our days spent in the heart of this beautiful setting, surrounded by these prestigious vineyards. The children really enjoyed the family swimming pool and the sunny weather made our trip just perfect. Warm regards.

 We had one of our most enjoyable stays in your Maison des Vendangeurs. We loved everything: the house, the countryside, the vineyards, the wine... Since we got back to Quebec, we haven't stopped singing the praises of your house and hospitality !
Select "La Maison des Vendangeurs" in the drop-down list
Booking request