Château Tournefeuille
LALANDE DE POMEROL
Located on a unique clay-gravel slope in the village of Néac, the Château TOURNEFEUILLE vineyard has stunning views of the famous Pomerol terroirs and the legendary Petrus
plateau.
Lit up by the warm southern rays cast a golden glow on the landscape come evening, the undulating hillside leads down into La Barbanne valley. The creek marks the border between the Pomerol and Lalande de Pomerol terroirs .
The Château TOURNEFEUILLE vineyard comprises 18 hectares of grapevines, grouped around the château and its cellars and offering a fabulous array of hillside wines
The 18 hectares that make up the Château TOURNEFEUILLE vineyard form part of the Lalande de Pomerol appellation. These grapevines are spread across four different terroirs
South-facing slopes resting on expansive clay and offering plenty of water regulation; the wines here are characterised by their roundness and density, their power and length; Merlots reign supreme here;
A gravelly outcrop that forms the top of the hillside; the grapes ripen early here; the wines are complex and elegant; it's the perfect terroir for Cabernets Francs and Sauvignons;
An additional north-facing clay-gravel slope which has proved a revelation in warmer years; the Cabernet Francs really stand out here;
A clay-loam plateau with soil crusts that stretches out towards the village of Néac, where the wines are bold and well structured, particularly the merlots.
Merlots (67%) and cabernets francs (30%) draw all their complexity from this terroir, easily reaching a perfect and high-quality state of ripeness.
ENCEPAGE :
62% merlot
33% cabernet franc
3% cabernet sauvignon
2% malbec
AGE OF VINES :
10 years : 22%
20 years : 17%
30 years : 5%
40 years : 7%
50 years : 30%
60 years : 20%.
BLEND :
2016 : 90% merlot, 10% cabernet franc
2017 : 74% merlot, 24% cabernet franc, 2% cabernet sauvignon
2018 : 58% merlot, 42% cabernet franc.
VITICULTURE :
50% converted to biodynamic production, 50% conventional production
No chemical herbicides or insecticides used
Manual leaf thinning
Manual grape harvesting.
WINEMAKING :
Table sorting of harvest prior to vatting.
Plot-by-plot winemaking using thermoregulated concrete vats calibrated according to plot size.
Barrel fermentation for two weeks to one month depending on the terroir.
Malolactic fermentation in barrels and vats.
MATURATION :
18 months – 20% vat – 80% barrels of which a third are new.
Collaboration with five coopers.
High-quality « fine-grained » French oak barrels.
Blending once fermentation is complete.
Filtration.
YEARLY OUTPUT :
50 000 to 80 000 bottles.
PACKAGING :
In six-bottle-flat or 12-bottle boxes
Half bottles, magnums and double magnums available
Additional charge for wooden cases.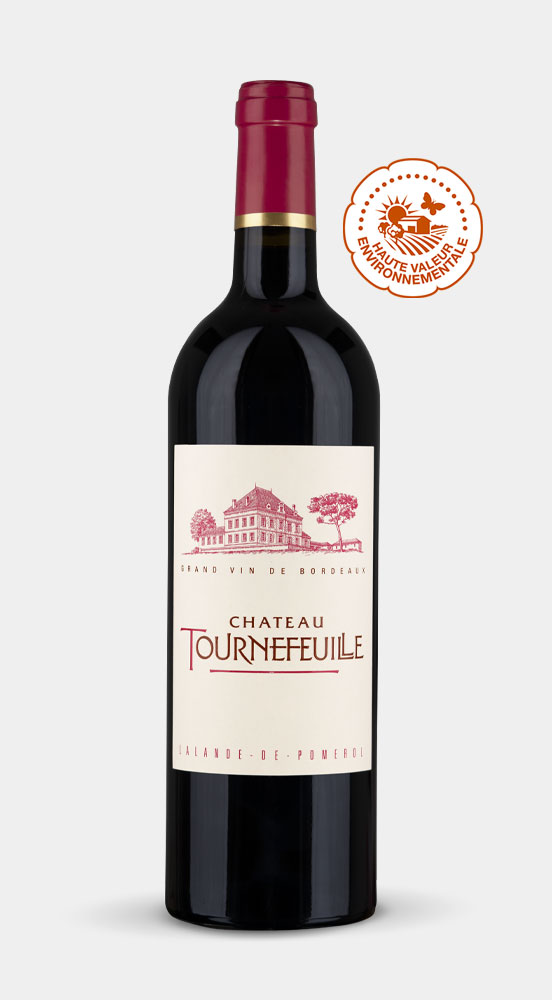 What people say about our wine
Château Tournefeuille 2017

A good proportion of Cabernet Franc was one of the keys to the success of this Lalande, surprisingly interwoven with subtle and chalky tannins. The nose was brawny and a little austere. Definitely one to look out for.

Château Tournefeuille 2016

A very nice, classic pairing. !👌😋Château Tournefeuille 2016 Lalande de Pomerol, Merlot and Cabernet Franc, vines opposite the village of Pomerol, separating them from a very prestigious estate on the other side of the La Barbanne river, P.....😉 with (organic) rack of lamb from the Ferme du Mont Rouge (71🇫🇷 ) cooked sous vide for one hour at 56.5°C (133°F). Gratin just like Mama Martray's, without cream, onions and poultry stock. 😋 😋 😋 Château Tournefeuille 2016 is a very well-balanced wine with an intense and velvety fruitiness like a coulis, subtly oaky, a Lalande de Pomerol has one of the best price-to-pleasure ratios of any Bordelais wine.
James Suckling : 91-92/100
Yohan Castaing – Anthocyanes : 90-92/100
Terre de Vin : 90-91/100
Makus Del Monego : 90/100
Bettane & Desseauve : 90/100
René Gabriel : 16/20
Le Point : 14.5/20
La Revue du Vin de France : 14.5 – 15.5/20
Gault & Millau : 14.5 – 15.5/20
Vert de Vin : 91/100
James Suckling : 91/100
Jancis Robinson : 16/20
René Gabriel : 17/20
Terre de Vin : 15.5/20
Bernard Burtschy : 16/20
Falstaff : 92/100
Yohan Castaing Gault Millau : 15 – 16,5+/20
Concours Gal Paris 2019 : Médaille d'Argent
Vignerons Indépendants : Médaille d'argent
Jancis Robinson : 16/20
Concours « Elle à Table » : Médaille d'Or
Figaro Vin – Bernard Burstchy : 16/20
Terre de Vin : 15.5/20
James Suckling : 91/100
Panos Kakaviatos (Wine Chronicles) : 92/100