ACCOMODATION
Château Tournefeuille
We at Château Tournefeuille are delighted to welcome you for both long and short stays. Our houses offer both guestrooms and gîte-style accommodation :
La Maison de Tournefeuille
Located at the top of a pretty hill opposite the legendary Pomerol terroirs, La Maison de Tournefeuille has a calm and peaceful view. Tastefully and elegantly decorated, it's the perfect setting for discovering the winemaking region with your friends or family.
A characterful two-storey building, La Maison de Tournefeuille has a comfortable living room, a south-facing kitchen and five beautiful bedrooms including one suite, each one equipped with a bathroom or shower-room and a separate toilet, all timelessly decorated..
Bathroom towels, a hairdryer and free WiFi are provided in all rooms. For those with small children, we can also provide a travel cot, baby bath and highchair.
Help yourself to the simple and classic breakfast prepared for you and laid out in the kitchen where the large doors open out to reveal the southern slope of the château.
We live just 200 metres from La Maison de Tournefeuille and are available whenever you need us.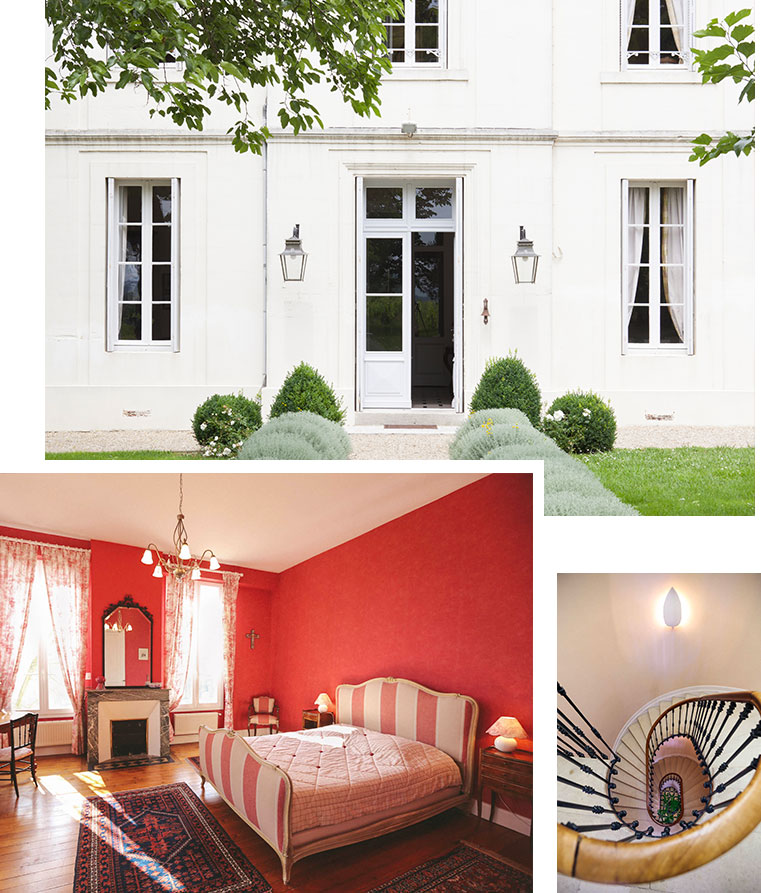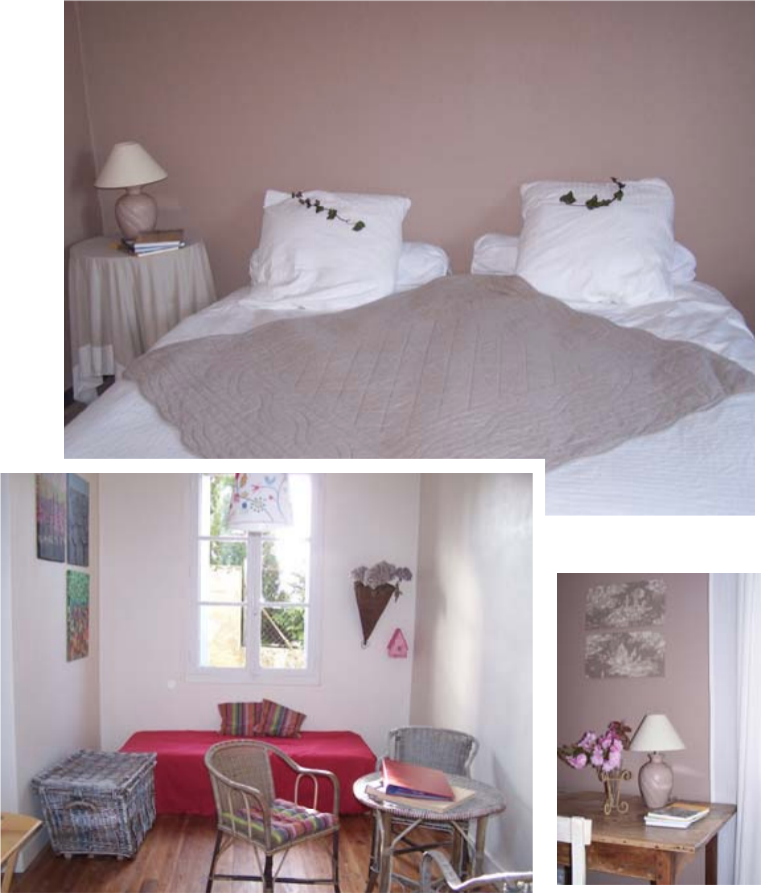 La Maison des Vendangeurs
Located close to Château TOURNEFEUILLE'S magnificent vineyard in Néac, Virginie Petit, invites you to enjoy a private and peaceful stay in the historic Maison des Vendangeurs.
Her flair for detail and comfort has helped her to create a cosy yet understated abode decorated in typical Bordelais style.
The 80-metre-square stone house has a large living space with a lounge area and fully equipped kitchen, a garden with outdoor furniture and three bedrooms : the little Rouge room, the medium-sized Rose room and the large Terre room.
Each room is furnished with a desk. The communal shower room has three washbasins and three separate showers.
Chambre La Cure
Emeric and Virginie are delighted to welcome you to the Chambre La Cure, located in the heart of the Tournefeuille vineyard in a pretty 19th-century Girondin house.
It consists of a comfortable bedroom decorated in warm hues, a rustic sitting room, a bathroom with a walk-in shower and separate toilets.
Cost per night: €115 including breakfast.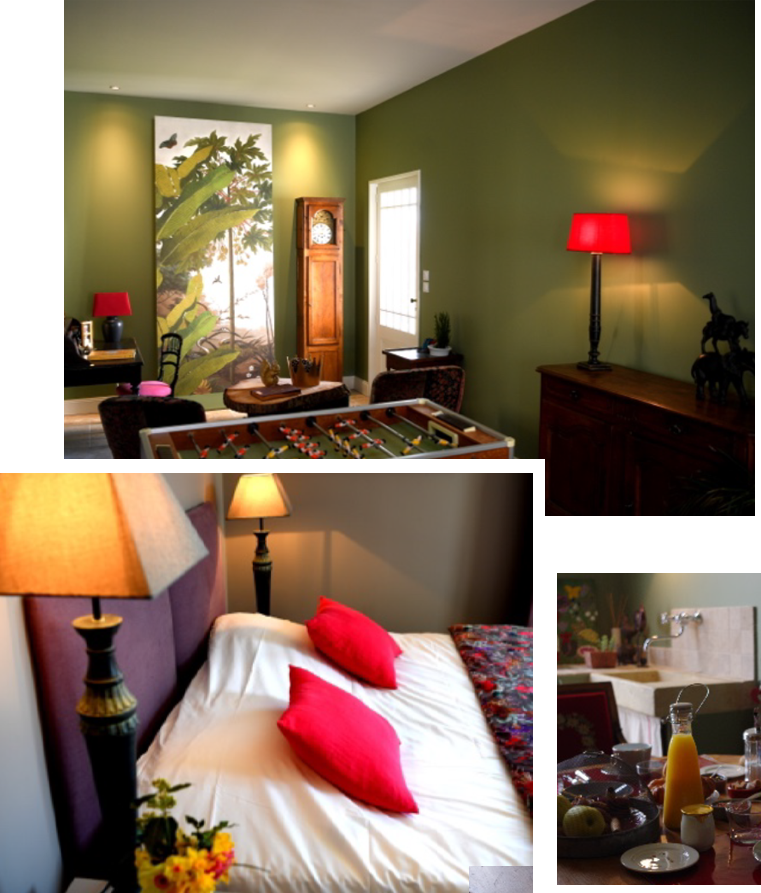 Guestbooks
Here is a selection of messages left by our guests…
Definitely one of our favourite tours. A warm welcome and an outstanding location with a stunning view of the estate. The tour was very well adapted to our level of knowledge and to our expectations. The tasting was also outstanding with delicious wines! I would definitely recommend and thank you for such a memorable time on the estate.

La Révérence 2016

Very, very good, nice density and length, pairs perfectly with a prime rib of beef.

La Cure 2016

Very good, a great vintage from a great year. Nice work !

Château Tournefeuille 2016

A very nice, classic pairing. !👌😋Château Tournefeuille 2016 Lalande de Pomerol, Merlot and Cabernet Franc, vines opposite the village of Pomerol, separating them from a very prestigious estate on the other side of the La Barbanne river, P.....😉 with (organic) rack of lamb from the Ferme du Mont Rouge (71🇫🇷 ) cooked sous vide for one hour at 56.5°C (133°F). Gratin just like Mama Martray's, without cream, onions and poultry stock. 😋 😋 😋 Château Tournefeuille 2016 is a very well-balanced wine with an intense and velvety fruitiness like a coulis, subtly oaky, a Lalande de Pomerol has one of the best price-to-pleasure ratios of any Bordelais wine.

Took a tour of Château Tournefeuille in Lalande de Pomerol last week. One of the rare local estates (which tend to be very flat) to have nice south-facing slopes, just opposite the Pomerol plateau. This Rosalcy is one of the estate's basic wines from the vines at the bottom of the slopes. A fruity wine with a slight woodiness, nicely expressive. Not particularly concentrated but with a pleasant mellowness, without too much astringency. It's nicely done but the price-to-quality ratio isn't anything outstanding.

A slow-paced stay in the calm and serenity of your charming home. Thank you so much for your hospitality, your thoughtfulness and your words of wisdom; may Saint Vincent guide you and protect this new harvest.

The perfect balance between a charming location and great hospitality. Would strongly recommend !

Calm, tranquillity, peace... Thank you for the meticulous attention to every detail: reception, family, decoration, setting. We had a lovely stay, thanks for your invaluable advice, tact and the gift you have for perfectly coordinating everything in your home.

A peaceful night in a beautiful setting gave us a chance to recharge our batteries. We were very touched by the welcome that we received. We really appreciated our hosts' desire to look after us and the passion they have for their craft. Our most heartfelt thanks.

We had a wonderful stay at Tournefeuille. We would have stayed longer if we could. Virginie's care and kindness ensured we had a very happy and comfortable stay. The house is practically located for visiting Saint Emilion, Bordeaux, Arcachon and Bergerac. We would love to visit again.

We spent a lovely week here with our family and really made the most of our days spent in the heart of this beautiful setting, surrounded by these prestigious vineyards. The children really enjoyed the family swimming pool and the sunny weather made our trip just perfect. Warm regards.

 We had one of our most enjoyable stays in your Maison des Vendangeurs. We loved everything: the house, the countryside, the vineyards, the wine... Since we got back to Quebec, we haven't stopped singing the praises of your house and hospitality !

Château Tournefeuille 2017

A good proportion of Cabernet Franc was one of the keys to the success of this Lalande, surprisingly interwoven with subtle and chalky tannins. The nose was brawny and a little austere. Definitely one to look out for.

We were lucky enough to celebrate our daughter's baptism in this beautiful place. We had a wonderful weekend in a charming, very clean and tastefully decorated setting. Our thanks to Mrs Petit for her kindness.

A stunning setting, a warm welcome, great wine and flawless service on the part of our hosts. We loved the tour + tasting as well as our night in the guestroom where we were lucky enough to be the only ones in the house. Our hosts allowed us to choose our own room (number 5 with its magnificent bathtub) and prepared breakfast for us at our preferred time. You can explore the estate and the land surrounding the château on foot and Saint Emilion is five minutes away by car. It was our first experience of wine tourism and we would highly recommend it.