ROSALCY
LALANDE DE POMEROL
Located in the village of Néac close to the centre, Rosalcy is a Lalande de Pomerol, whose vines grow adjacent to those of Château Tournefeuille. They are spread over three hectares, of land located at the foot of a slope, a north-facing slope and a clay-loam plateau.
The wines here are fine, supple and fruity, designed to be opened rather more quickly.

The three Rosalcy hectares are part of the Lalande de Pomerol appellation. Its vines are divided up as follows :
A north-facing slope with nice clay-gravel soil that has proved a revelation in warmer years ; the cabernets francs really stand out here ;
A clay-loam plateau with soil crusts that stretches out towards the village of Néac, where the wines are bold and well structured, particularly the merlots.
The foot of the slope with clay-loam soil that stretches out across a meadow at the edge of the river.
SOIL AND POSITION :
50% of the vines are located at the foot of the slope and on the clay-loam plateau,
50% are located on a north-facing clay-gravel slope.
ENCEPAGE :
80% Merlot
20% Cabernet franc
AGE OF VINES :
10 years : 9%
20 years : 21%
30 years : 27%
+30 years : 42%
VITICULTURE :
30% converted to biodynamic production,
70% conventional production
No chemical herbicides or insecticides used
Manual and mechanical leaf thinning
Manual and mechanical grape harvesting.
WINEMAKING :
Table sorting of harvest prior to vatting.
Plot-by-plot winemaking using thermoregulated concrete vats calibrated according to plot size.
Barrel fermentation for two to three weeks depending on the terroir.
Malolactic fermentation in vats.
MATURATION :
50% barrel ageing two and three wines, 50% concrete vats.
BLEND :
2016 : 74% Merlot, 26% Cabernet franc
2013 : 65% Cabernet Franc, 35% Merlot
ANNUAL OUTPUT :
22 000 bottles.
PACKAGING :
Bottled at the Château
In six-bottle-flat or 12-bottle boxes
Half bottles and magnums available
Additional charge for wooden cases.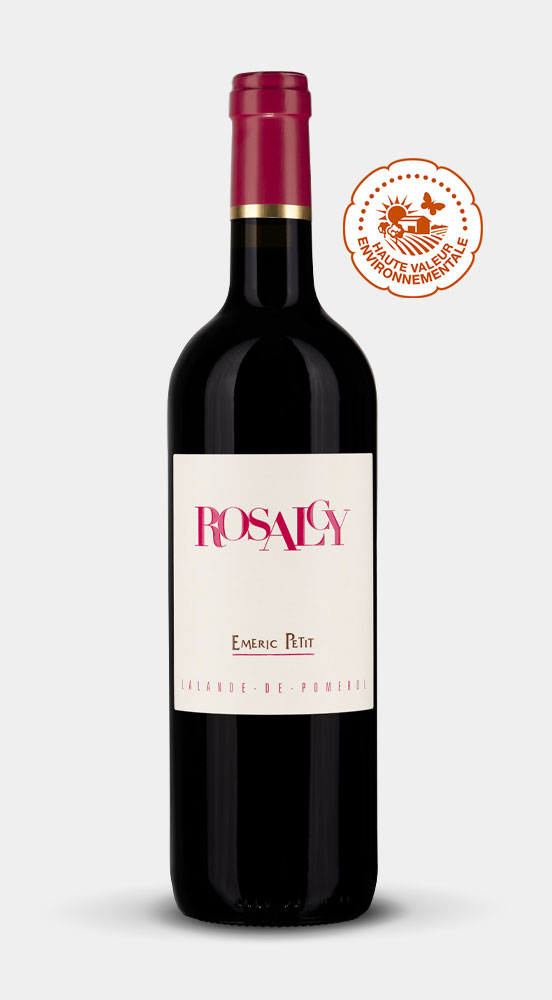 What people say about our wine
Took a tour of Château Tournefeuille in Lalande de Pomerol last week. One of the rare local estates (which tend to be very flat) to have nice south-facing slopes, just opposite the Pomerol plateau. This Rosalcy is one of the estate's basic wines from the vines at the bottom of the slopes. A fruity wine with a slight woodiness, nicely expressive. Not particularly concentrated but with a pleasant mellowness, without too much astringency. It's nicely done but the price-to-quality ratio isn't anything outstanding.
Bettane et Desseauve Prix Plaisir : Silver Medal
« This is a delightful wine, well structured with real charm. We very much enjoyed it. »
Everywine.co.uk :
« Well balanced with a good amount of alcohol. A well-crafted wine with a pleasant, aromaticfreshness. Very understated… »
Bettane et Desseauve Prix Plaisir : Silver Medal
« This light and pleasing wine is just begging to be paired with a nice rib steak with Marchand de Vin sauce »
Vino Vini
2013 was a rather disappointing year for Bordeaux and our tasting panel wasn't particularly looking forward to this vintage. This is the exception that proves the rule. The Rosalcy vines border those of Château Tournefeuille and also belong to Emeric Petit. By carefully monitoring the vines and opting for gentle extractions, Emeric played his hand well and rescued the fruits of this year's labour. The moral of this story is that hard work always pays off.